MEET THE KYLE HANNEGAN GROUP
Our Mission at BHHS Select Properties is to make a difference in the lives of our clients, customers, and each other to achieve "The American Dream of Homeownership". Together, building life long relationships, always working towards keeping our community strong and "The Place to Live"… Together we can make a difference.
KYLE HANNEGAN
Born and raised in St. Charles, I know and love this area. My family owns and operates a construction and real estate company, so I have been around both businesses my whole life. I truly enjoy aspects of each business but have found that my true passion is real estate. I love helping people find that perfect house for their family's lifestyle and also helping them sell their first home to move on to a new chapter of their life. Having worked with my family business, it has instilled in me a strong work ethic and doing everything, regardless of the situation, the right way and putting the customer first. 
DANA CREELMAN
Dana grew up in the suburbs of Chicago and graduated from Miami University in Oxford Ohio. She and her husband have been married for 18 years. She has two teenagers, a boy and a girl. She has 20+ years of sales experience in retail, medical and real estate sales. She also has management experience. She also has over 10 years of sales experience in Residential Real Estate. She relocated to Minneapolis in 2006 and has since moved to St Louis with her family for new opportunities for her husband. She enjoys group fitness classes, jogging, yoga, watching movies and checking out new restaurants.  She volunteers often at her children's school. She is involved in her neighborhood, community, and is active in her church.  She values spending time with her friends and family.  Dana's goal as a realtor is to help her clients find the perfect house for them, or sell their current one with the least amount of stress possible. She truly enjoys helping people find a great house that can become their home. Because the home buying or selling process can be very complicated and overwhelming she educates her clients and work closely with them during the process.  Having worked with clients relocating, and personally and moving via a relocation company, she is familiar with that process also and can help her clients find a home long distance!  Dana loves to hand her clients the keys to their new home, be it their very first home or their dream home! She counts it a great privilege to be trusted with helping her clients buy or sell a home.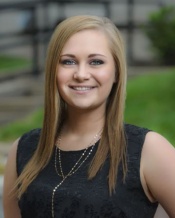 BRITTNEY EIKERMANN
Brittney's attention to detail, and her organizational and communication skills ensure every client a smooth transaction. Brittney takes pride in overseeing all aspects of the transaction from the executed purchase agreement to closing.  She will regularly update and maintain communication with clients, agents, title companies, and lenders. Brittney is excited to work with every client and strives to provide a flawless experience every time.
---
---